How it all began
It all began with her making a penguin from a pear when she was 6 years old; she always wanted to be a food artist.
Prudence Staite says:
"In 1996, I could not decide whether to become a chef or an artist. I wanted to be both, try telling that to your careers advice teacher. I had always done a lot of cooking, and I have been making chocolate paintings since 1990, my first self-portrait was eaten."

She decided to do an Art degree at Winchester School of Art, and this is where she really developed her love of food and art. Fusing food and art together she started working more and more with non -traditional materials. She wanted people to be able to touch art, smell art, enjoy art, bite art and really get involved with art.
"As part of my degree show I made an interactive room where you could eat the skirting boards, they were made from chocolate!
When she left university she set up Food is Art to make her dream come true.
"Over many years the chocolate painting idea developed. The portrait became a solid chocolate canvas with a realistic solid chocolate frame, with edible gold gilding, surrounding a white and dark chocolate image, the totally edible solid chocolate painting was born!".
You can now have bespoke paintings and sculptures created, and Prudence can even make her own moulds, so you can have anything you can dream of made from chocolate, even playable chocolate records.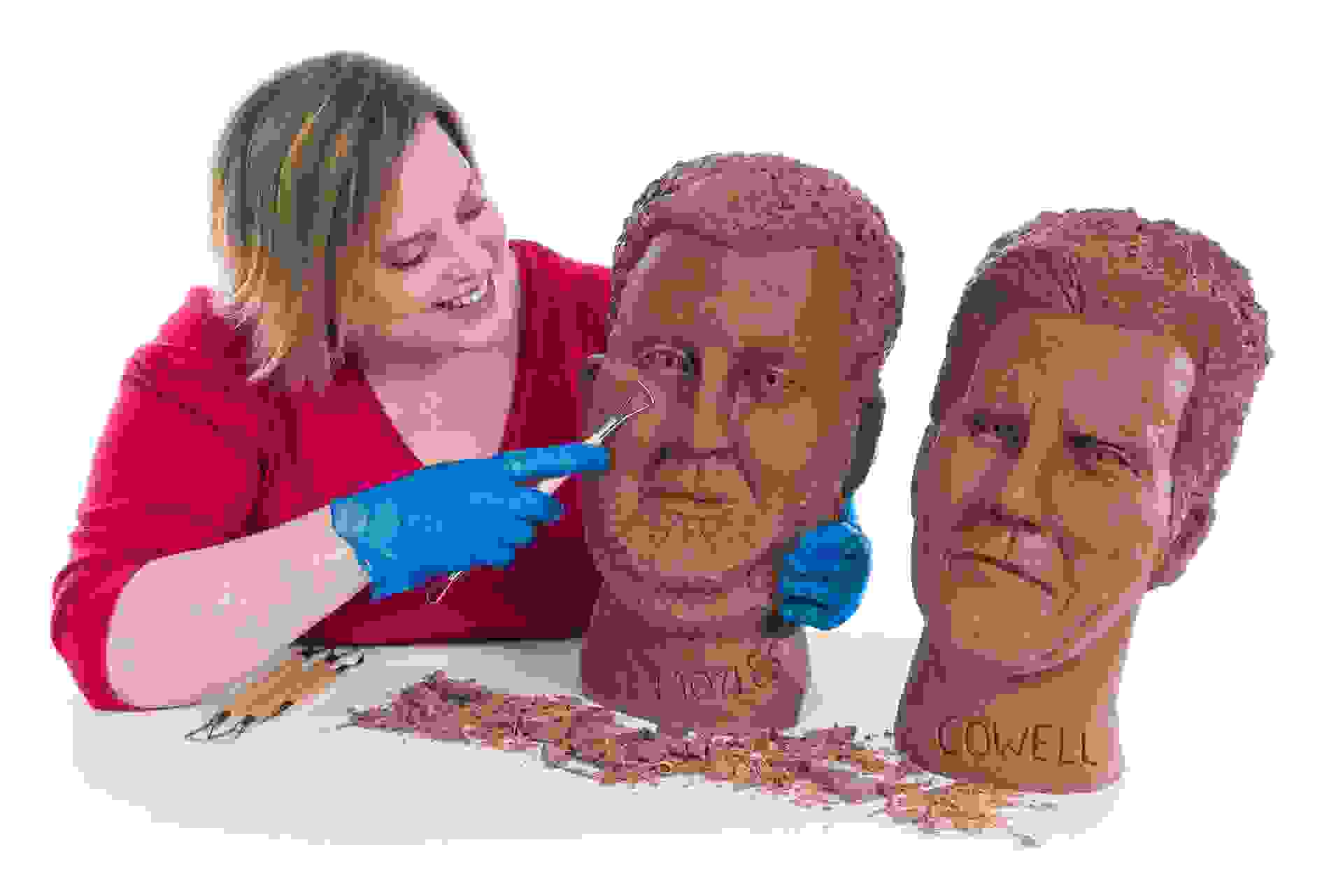 What we do
Prudence Staite and her team transform chocolate and any food into edible art on any scale.
Prudence has designed and created installations and sculptures in Australia, New Zealand, Kuwait, Dubai, USA, Hong Kong and all over the UK whilst chatting with the public as she does so.
Projects have included the design, development and creation of the following:
Life size sculptures of people made from chocolate.
Pizza portraits of celebrities.
Life size tractor made from cheese.
Life size chocolate rooms, with edible wallpaper, chocolate picture frames, skirting boards, dado rails, fireplaces, dining tables, chairs, tableware and food.
Edible and interactive billboard posters.
Replicas made from cake, sugar and chocolate.
Giant gingerbread houses.
12ft high Christmas tree made from 10,000 Ferrero Rocher chocolates.
Mosaics made from pastry, potatoes, and pies.
Chocolate award figures and bespoke items for events.
Live chocolate and cheese sculpting at events and food festivals.
Art created with non food items, like postage stamps, ribbons, bows, photos, bottle tops, tiles, cups, etc. We have recreated famous paintings from hundreds of photographs, and even made Harry Potter from Christmas tree decorations.
Whatever your material or product is we can advise on what is possible and suggest ideas for what we could create with it.
How we work
Prudence Staite and her team can design anything from life size chocolate sofas and huge edible chocolate Christmas trees to tiny portraits on cookies.
Each project is on a commission basis whether large or small. Prudence will design a visual to give you an idea of how the final food creation will look. Each project is special, unique and bespoke to you.

We also offer full production services, from initial designs to build and break down and disposal/recycling.
At our studio we do in-house professional food photography. We offer the creation of time lapse videos and work with several photographers and videographers.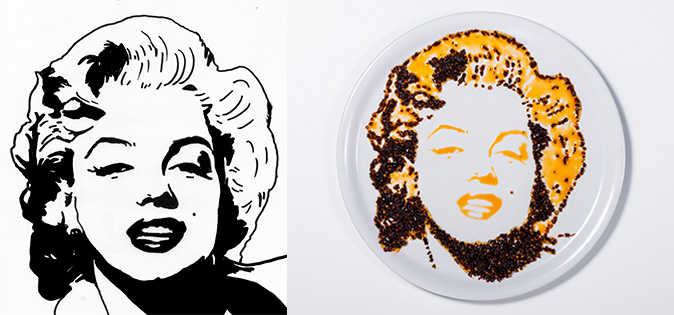 With large sculptures and installations we provide health and safety risk assessments, maintenance, team management, build up and break down, removal and recycling. You don't just simply have the sculpture delivered we can deal with everything.