We think that wedding favours should be fun and something people would actually like, so why not have edible ones! Everyone loves chocolate so you can give something that people will appreciate. These are also perfect as place names for your dinner party or any event.
We also create bespoke chocolate wedding cakes and chocolate wedding cake toppers.
Let us know what you have in mind and we will see what we can create.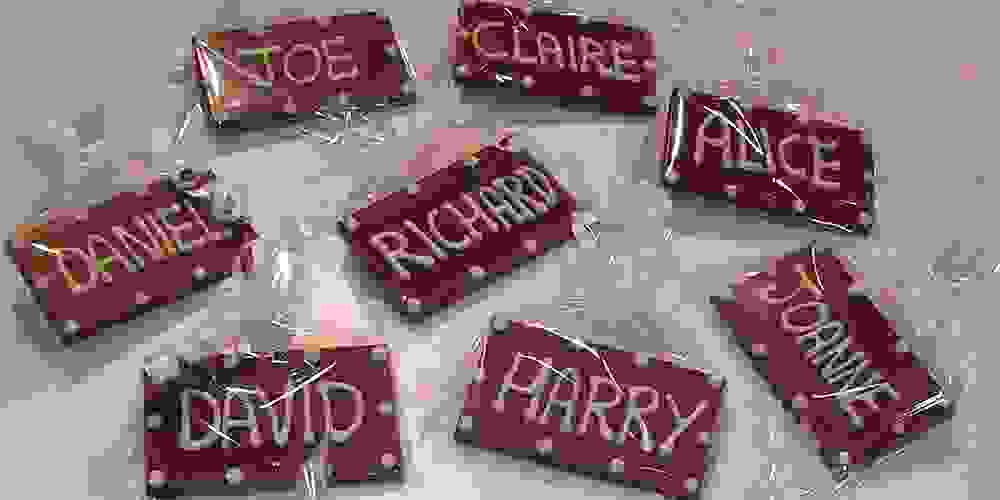 Chocolate Wedding Favours
You can choose from a range of chocolate shapes including hearts, rectangles and rounds that combine the wedding favour or gift and the place name in one. Each guest name is hand piped in a contrasting chocolate colour and you can choose the ribbon colour to fit your colour theme.
A great edible and practical favour that people can either take home, eat with the coffee, or even nibble on later for extra energy for dancing all night!
Order your personalised wedding favours at the Food is Art Etsy store.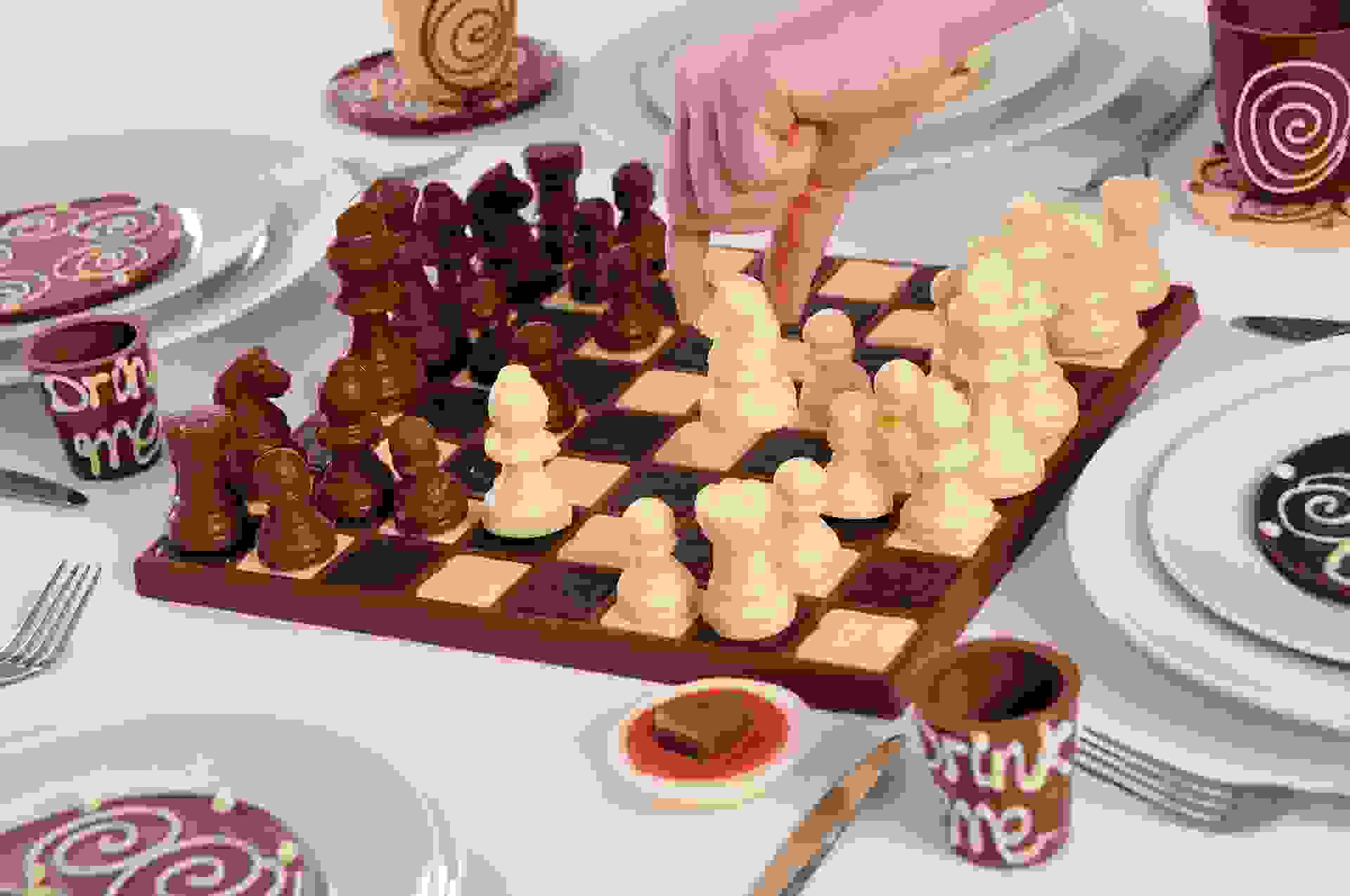 Chocolate Portraits
These are 100% chocolate and 100% edible.
Made with a 35cm x 25cm chocolate slab canvas, surrounded with a realistic chocolate frame dusted in edible gold or silver colour, with an actual portrait hand painted with dark and white chocolate.  Weighing about 2kg of chocolate you can eat the whole artwork.
A chocolate portrait of the happy couple can be a great way to decorate the top table, or to go alongside your cake, adding a really special wow factor.
We have made these for people from all over the world, for various events and occasions, from Elvis conventions in Las Vegas, to personal gifts, to presents for chocolate fan Dawn French when she was a guest on TV. When she saw it she said "Wowweeee, this is art I like!" 
We would create a visual design first which would be emailed to you so you can see what it would like when made in chocolate.
Chocolate Mosaics
For an even bigger wow factor you could have a chocolate mosaic style creation that features the portraits made from individual chocolates, chocolate bar pieces, chocolate buttons, and it can even feature chocolate shapes that fit your theme and interests.
These 65cm high x 40cm wide completely edible artworks can be displayed upright and they certainly get a lot of attention. Instead of cutting a traditional cake you smash the 15kg artwork with a hammer and share it with your guests!
This is so much fun, and something that your guests will remember forever.
Pieces can be put in bags tied with pretty ribbon so your guests can take some home.
You can also have these edible portrait mosaics made from chocolate but using different types of sweets or jellybeans to make the image.
Chocolate Wedding Cakes and Wedding Toppers
We make chocolate wedding cakes with bespoke solid chocolate wedding toppers that can be very detailed to feature the happy couple's interests and personalities. A truly unique chocolate wedding topper can be designed and feature anything.
Toppers are hand sculpted from chocolate and we can supply one to put on top of your cake.
We have made wedding toppers for travel enthusiasts, featuring the top 10 places they travelled to together, ones that feature the happy couples professions from actors to engineers, teachers to zoo keepers, each sculpture having tiny details added that reflect their personalities and interests.